According to a recent study by LinkedIn that analyzed average volume of job postings on LinkedIn – and the number of people in each area getting hired – Seattle topped the list of 182 U.S. metro areas for 2020. Clearly, the pioneering spirit lives here!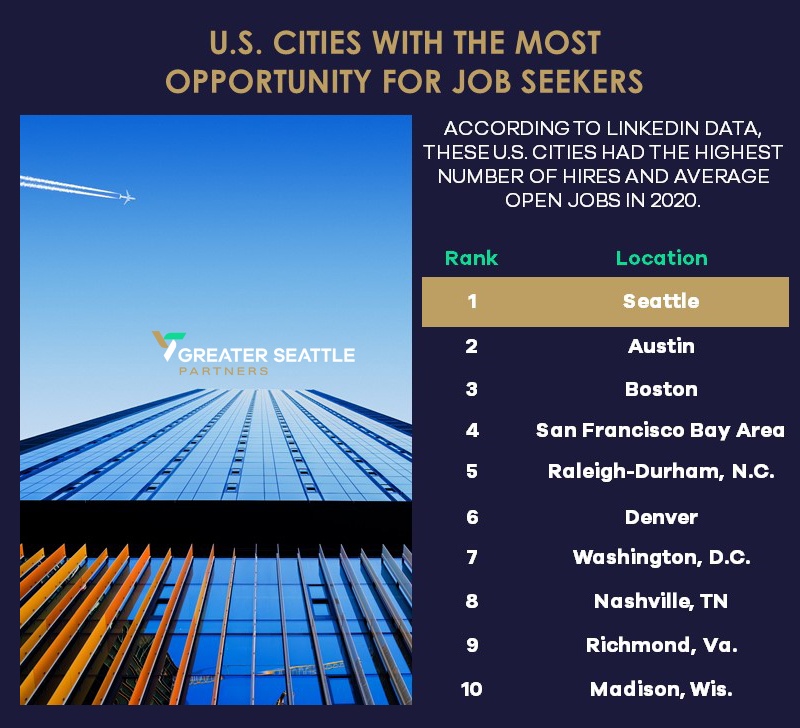 Excerpt from the article:
For top-ranked Seattle, being Amazon's home town means a nonstop flow of additional jobs, many of them in tech. While the COVID-19 pandemic jolted most of the economy, it also led to a huge surge in demand for Amazon's e-commerce services. Amazon added 427,000 employees worldwide in the first 10 months of 2020.

Even though many of those hires were scattered throughout the U.S. (and the world), Amazon's headquarters hiring boom was big enough to turn the company into Washington state's largest corporate employer, overtaking long-time leader Boeing. Currently, Amazon has more than 9,000 Seattle-area jobs listed on LinkedIn, with 6,900 of them classified as being in tech.

The Seattle area also gets a lift from the presence of other tech companies, including Microsoft (which owns LinkedIn), Expedia, Salesforce's Tableau unit and sizable outposts for Google, Facebook and other tech leaders.

Source: LinkedIn
Why Greater Seattle?
There are many reasons why the region is one of the most innovative and influential economies in the world. Just to scratch the surface, we are home to some of the best-educated and highly-skilled professionals in the U.S. In fact, more than 60 percent of residents over the age of 25 hold a degree. Reuters has consistently ranked the University of Washington as the #1 most innovative public university for three years in a row. In addition, the University of Washington Tacoma's B.S. in Information Technology program ranks second in the nation (Bachelors Degree Center, 2019).
According to a recent study by CBRE, Seattle led the country with the highest net % gain in tech talent, a 7.6% change that is more than double Austin (3.6%). The Bay Area came in third (2.8%), followed by Denver (2.4%).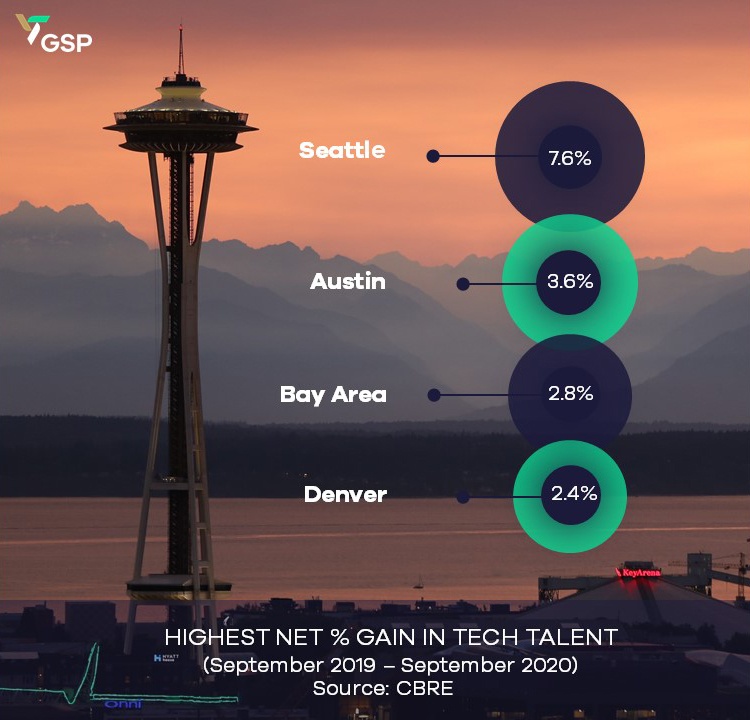 This concentration of talent naturally positions Greater Seattle as one of the best performing regions in the U.S. for median earnings. Recent GDP growth has moved us to the 10th largest regional economy in the nation. The next region on the list at #11 – metro Atlanta – has a population of almost 2 million more people, which is astounding. Clearly, Greater Seattle punches well above its weight. These and many other reasons are why companies don't just grow here, they change the world and beyond.
Congrats to all of you rock stars out there. If you are considering relocating here please feel free to reach out.