Greater Seattle Partners recently received a goodwill package of 5,000 made-in-Taiwan surgical masks from the Importers and Exporters Association of Taipei with assistance from the Taipei Economic and Cultural Office (TECO) in Seattle. This gift demonstrates the goodwill efforts between our two associations to grow both of our country's economies as well as a shared commitment to doing business with one another.
Greater Seattle Partners' CEO, Brian McGowan met with Daniel Kuo-ching Chen who is the Director General of Taipei Economic and Cultural Office located in downtown Seattle. It was a warm and welcoming meeting, and we certainly enjoyed the visit.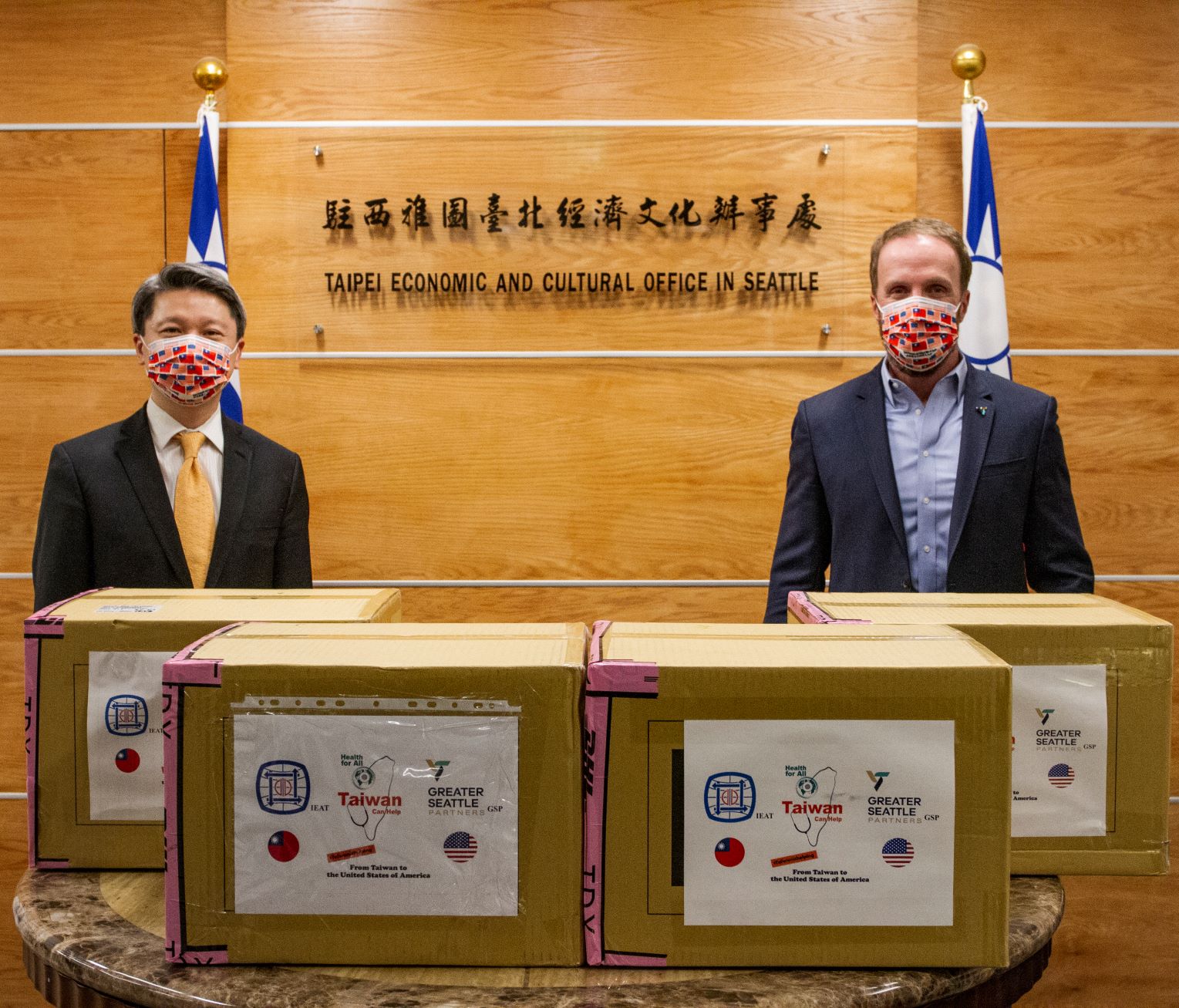 Taiwan shares a close and historical relationship with the State of Washington marked by strong bilateral trade, foreign direct investment, educational and cultural exchanges, and tourism. Taiwan is Washington's sixth largest export destination, and in 2018 our state exported $2.3 billion in goods to Taiwan. In fact, the export of goods and services to Taiwan generates an estimated 13,523 jobs for our residents.
Our region is also home to more than 20 Taiwanese companies employing almost 2,000 Washingtonians. These companies include WaferTech, which was the first dedicated semiconductor contract manufacturer, also known as a pure-play foundry, in the United States.
Taiwan-Affiliated Companies in Washington
85C Bakery Cafe
AATTV
ASA Tours International
Aspi Group Inc.
Aspi-Land Surveying & Planning
Barclay Seafood
China Airlines Cargo
China Harbour Restaurant
Coast Hotel Bellevue
Composite Solutions
DCL Management LLC
Din Tai Fung
EVA Air
Everbright USA Inc.
Evergreen Shipping Agency
HTC America
Lightel Technologies
Majestic Superior Logistics
Reliance Mortgage
Royal Dental Group
S.A. International Inc.
WaferTech
WPI Real Estate
Yang Ming Marine Transport Corporation
Two of Greater Seattle's famous tech companies – Amazon and Microsoft – have recently announced large workforce development and infrastructure projects in Taiwan.
Training in Cloud Computing and Artificial Intelligence
Taiwan's Ministry of Economic Affairs (MOEA) signed an agreement with Amazon Web Services (AWS) in March 2019 to establish a joint innovation center in one of Taiwan's science parks that will assist in launching "unicorn" start-up companies in Taiwan. The center is expected to train as many as 2,000 professionals annually through courses, workshops and seminars, with the aim of helping local start-ups operate internationally and attracting foreign start-up investors to Taiwan.
Taiwan is also the first in the Asia Pacific region to announce an AWS Educate Cloud Degree Program implementation.
Digital Skilling for Advanced Cloud Software and Hardware
In October 2020, Microsoft Corp. announced another major milestone in its "Reimagine Taiwan" initiative, including plans to establish its first cloud datacenter region in Taiwan and a significant investment in local talent and development with the goal to provide digital skilling for over 200,000 people in Taiwan by 2024. Additionally, Microsoft is growing its Taiwan Azure Hardware Systems and Infrastructure engineering group, which will establish Microsoft Taiwan as a hub in Asia for innovation in designing and building advanced cloud software and hardware infrastructure spanning AI, IoT and edge solutions.
We appreciate our close connections between our organization and the local business community, and we look forward to future opportunities to partner in trade and investment agreements that mutually benefit our economies.