We always enjoy being in good company with researchers that conduct data analysis on the global economy, and more specifically, foreign direct investment (FDI) and international trade. Recently, we had the chance to sit down with Investment Monitor to discuss what led us to "a true global presence that looks well prepared for the rest of the 21st century."
Excerpt from the original article:
Seattle's most iconic landmark is its Space Needle, a space observation deck erected during the 1962 World's Fair. It stands as both a legacy of the city's futuristic outlook and a symbol of its growing importance as a global centre of innovation. Seattle is the largest city in the US Pacific North-West and Washington State. The seaport city is universally recognised for its natural beauty and is surrounded by water, with Lake Washington on one side and the port of Seattle on the other.

Along with the surrounding cities of Tacoma, Redmond and Bellevue, the greater Seattle region is home to several Fortune 500 companies, from Big Tech companies Microsoft and Amazon, aerospace giant Boeing and coffee retailer Starbucks to wholesaler Costco and the travel industry's Expedia and Alaska Airlines.
Towards the bottom of the article it states that their FDI Projects Database shows that inward investment in Seattle held relatively steady during 2020 at the height of the Covid-19 crisis but failed to bounce back to pre-pandemic levels in 2021. This is certainly something that GSP is tracking.
In the past 5 years, FDI Projects into Greater Seattle represented 8,000+ jobs and $3B of investment. However, in the same time period, FDI projects out of Greater Seattle represented 289,000+ jobs and $71B of investment. Since 2012, our region has produced over 7.5x as many FDI projects as it has received, largely from Amazon and Microsoft.
Is the dip in FDI project numbers into Greater Seattle vs our output influencing the strength of the regional economy? Not if you look at our gross regional product (GRP).
The Seattle metro area economy became the 10th largest regional economy in the country in 2019, surpassing the Atlanta metro area, which has a population that is 2 million people larger. Gross Domestic Product (GDP) for the region grew to nearly $383 billion in 2019, a 5.1% increase over 2018, according to the Bureau of Economic Analysis. Based on our analysis, Greater Seattle's GRP was $462B in 2021.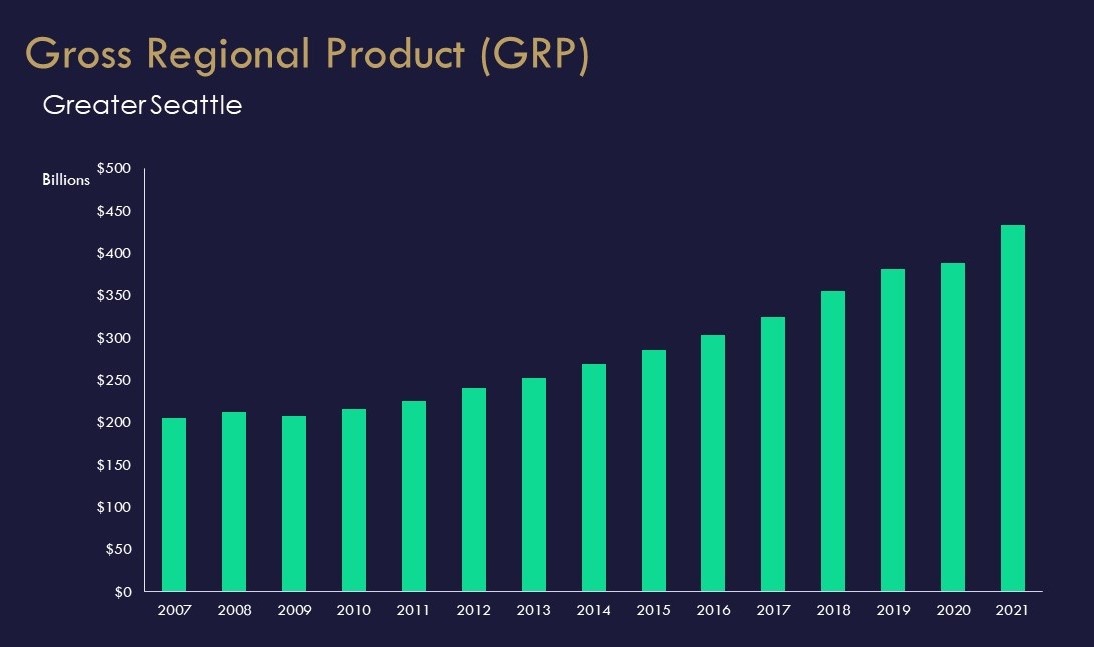 We are an extremely trade dependent state. Greater Seattle's total dollar value of exports of goods over the last decade grew steadily through 2015, then experienced a steady decline in export dollar value over the last five years with a dramatic dip in 2020 as COVID-19 disrupted trade. But by the first half of 2021 we saw a reversal of that trend with double-digit growth of exports to a total of 188 countries and territories.
To-date, exports are up 22.5%, and total trade is up 7%.
The world clearly wants what we have, but of course we can never rest on our laurels. We must lead the building of the green economy, develop stronger relationships with our FDI partners, invest in infrastructure and logistics, and ensure everyone has the opportunity to prosper.
Investment Monitor was kind to illustrate the importance of our innovation economy, and the diverse industries, talent, and global connectivity that have helped propel our region forward. No personal or corporate income tax, strategic location on the Asia-Pacific Rim, equal distance to Asia and Europe, and stunning natural beauty are equally important ingredients to our success.
With the help of our public and private partners, we'll keep focused on the short and the long game to ensure we are well-positioned for the rest of the 21st century and beyond, and continue to be the best place in which to do business for companies around the world.