As we reflect upon the conclusion of the Third APEC Senior Officials' and Ministerial Meetings in Seattle, we are grateful for the dedication, planning, and coordination of our Host Committee partners and friends who were invaluable in ensuring the Emerald City shined so bright for all the world to see.
Amazon, Microsoft, City of Seattle, Port of Seattle, Visit Seattle, Washington State Department of Commerce, APEC Private Sector Host Committee, Argosy Cruises, Bill and Melinda Gates Foundation, City of Tacoma, Costco Wholesale, Coupang, Chateau Ste Michelle, Delille Cellars, Gardner Global, King County, Matthews, NCAPEC, Snohomish County, Starbucks, Seattle Theater Group, Washington Grain Commission, Washington Potato Commission, Washington State Department of Agriculture, Washington State Tree Fruit Association, Washington Dairy Commission
It was an honor to work alongside the Asia-Pacific Economic Cooperation (APEC), National Center for APEC, and State Department to host unforgettable events at the Amazon Spheres, Chihuly Garden & Glass, Climate Pledge Arena, Gates Foundation, Paramount Theater, Port of Seattle, and many others. In addition, there were more than 250 individual meetings hosted by 15 departments and agencies in Seattle.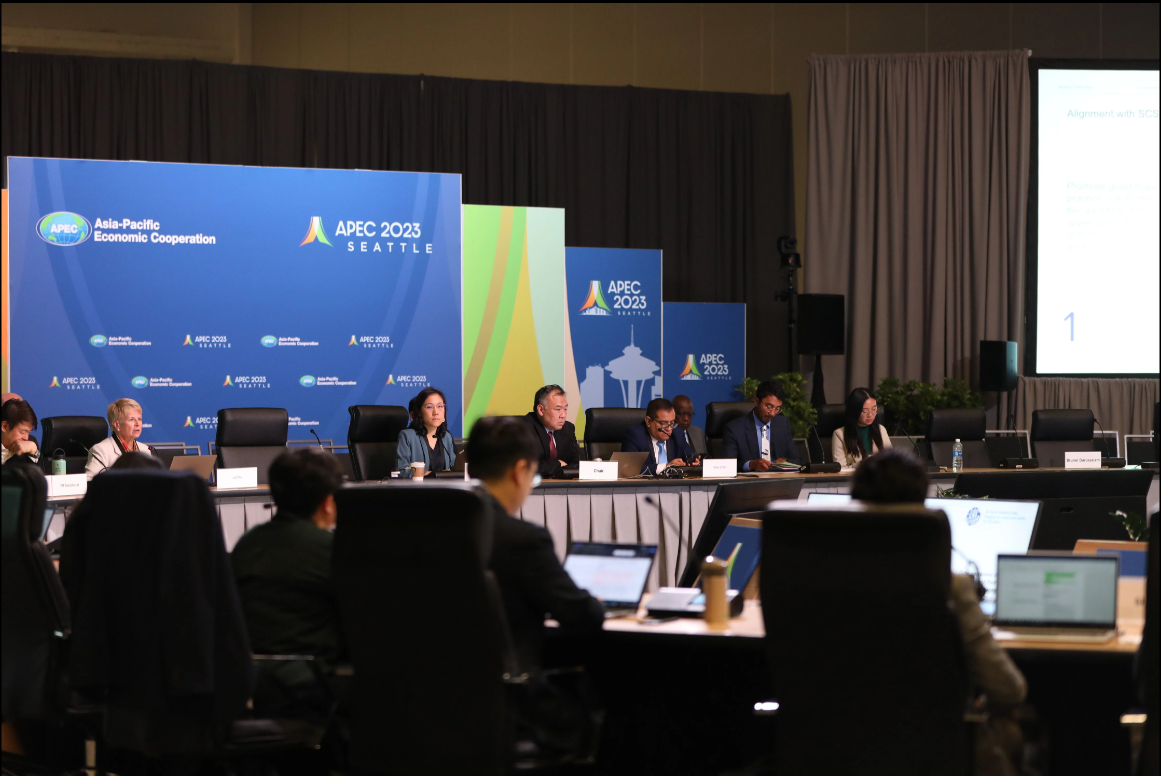 Photos courtesy of Alabastro Photography, City of Seattle, Port of Seattle and Space Needle.
Background
Hosting a global event like APEC requires an incredible amount of foresight and planning. It started in July 2022 when we engaged Ambassador Matt Murray, the United States Senior Official for APEC and helped secure Seattle as a location for the 2023 APEC Senior Officials' and Ministerial Meetings. In partnership with Visit Seattle, the Port of Seattle, and Seattle Mayor Bruce Harrell, we then organized the Honorary APEC Seattle Host Committee under the leadership of former Governors Gregoire and Locke, elected officials across the region, and private sector partnership from Amazon and Microsoft.
This Host Committee would ultimately lead the coordination across many government agencies and the private sector that consisted of weekly calls to pull off a litany of deliverables including soliciting volunteers, managing multiple receptions and events, fundraising and disbursing funds, and working with local municipalities to ensure a smooth run of show.
The breadth and depth of APEC has grown significantly since its inception, but this was not Seattle's first time hosting APEC. In fact, our region had the distinct honor of hosting APEC's inaugural meeting in 1993.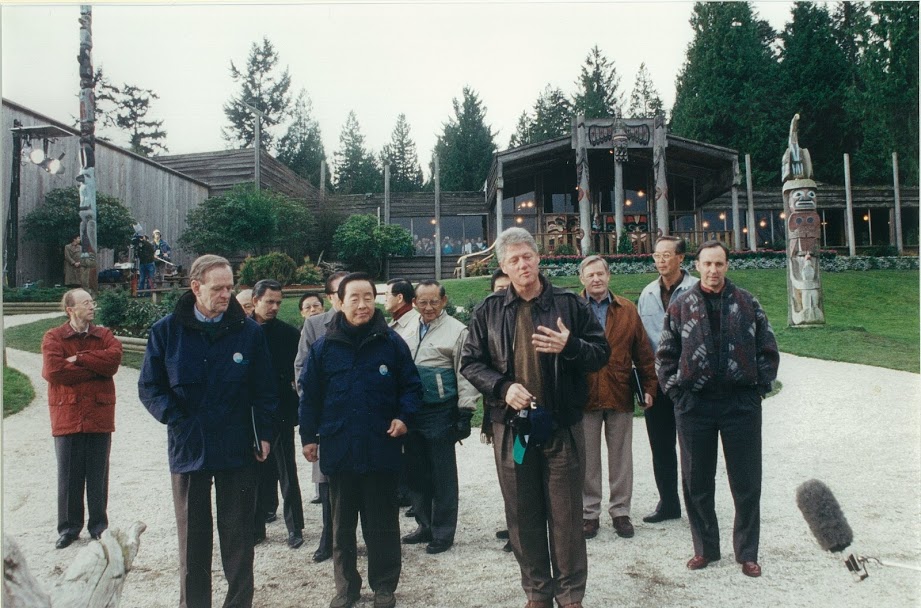 President Bill Clinton and leaders of APEC for the inaugural meeting on Blake Island, Seattle in 1993.
Over the past 30 years our region has deepened its connections as a critical gateway to the Asia-Pacific. The deepwater ports in Seattle, Tacoma, and Everett now make up one of the largest international shipping gateways in North America, and Seattle-Tacoma International Airport is consistently ranked as a top international airport and one of the best in North America.
Serving as a global logistics hub and equidistant between Europe and Asia, our region has vaulted forward to become the 9th largest metro economy in the United States, leading unprecedented growth in advanced manufacturing, commercial aerospace, and new technologies such as e-commerce, cloud computing, and artificial intelligence.
Creating a Resilient and Sustainable Future for All
Over the span of 24 days in July and August 2023, our region welcomed more than 3,500 delegates representing the 21 APEC economies and engaged six ministerial meetings covering critical issues reflecting the strengths of our region including:
Trade and investment facilitation
Digital economy
Health
Gender equity and equality
Clean energy and climate
Anti-corruption
Food security and agriculture
Energy
Emergency management
Small and medium-sized enterprises
Women in the economy
From addressing broader supply chains to strengthening struggling health systems to bolstering food security to mitigating climate change – APEC Seattle advanced a range of discussions and outcomes focused on building resilience across various sectors of the Asia-Pacific economies.
Flag Raising
It was an honor to join senior officials from APEC, and regional partners and friends from City of Seattle, Port of Seattle, The Northwest Seaport Alliance and Visit Seattle to hoist the APEC Seattle flag above the Space Needle. It was three steep and narrow ladders to get to the upper deck, but the views were stunning.
As our CEO, Brian Surratt stated in the Seattle Times:
We followed the ceremony with a beautiful reception at the Chihuly Garden and Glass with senior officials from around the world, as well as strategic partners from across the Greater Seattle region and Washington State with remarks from Governor Jay Inslee, Mayor Bruce Harrell and Brad Smith of Microsoft, emceed by our COO Rebecca Lovell.
Photos courtesy of Alabastro Photography and City of Seattle.
Economic Impact
According to Visit Seattle, APEC attendees generated more than $8 million in economic impact to our destination during this time as they frequented the Emerald City's bustling hotels, restaurants, and attractions. But the economic impact of APEC far extends these few dizzying weeks.
The APEC region is crucial to the prosperity of Greater Seattle. The 21 APEC member economies account for nearly 40% of the global population, almost half of the global trade, and approximately 60% of the global GDP. APEC members are the destination for more than 60% of U.S. exports, and seven of the top 10 overall trading partners for the United States are APEC members.
In Greater Seattle, total trade with APEC member nations surpassed $1 trillion from 2012 to 2022, averaging over $90 billion annually, or 76% of the region's total trade. Foreign direct investment (FDI) from APEC member economies from 2012 to 2022 accounted for more than $3.5 billion and 8,130 direct jobs in Washington State. In return, Washington State invested more than $43 billion and created 120,000 direct jobs in APEC member economies. These strong international ties foster a diverse and growing foreign-born community from APEC member economies totaling more than 415,000 people or 10.25% of the total population of Greater Seattle.
As was articulated so well in this Seattle Times op-ed titled, "APEC is advancing the inclusive growth we all seek in Washington":
Regional Strength, Global Reach
We are committed to expanding and deepening economic ties within the Asia-Pacific region as we continue to build a sustainable and resilient future for the benefit of Greater Seattle workers, families, and businesses, as well as our fellow citizens of the world.
We will continue to elevate APEC as an incubator of ideas and further APEC's stakeholder engagement with the private sector, civil society, environmental groups, and aspiring entrepreneurs to foster the strong, balanced, secure, sustainable, and inclusive economic growth we all seek.
Hosting APEC not only showcased Seattle's stature as a global city, but also demonstrated a strong culture of collaboration between our public and private partners – we know we are at our best when we work together to welcome the world.
What will Greater Seattle look like in another 30 years? If the past three decades are any indication, it is our unique combination of talent, pioneering spirit, and innovative companies that together will drive positive change and help us continue to tackle the world's biggest challenges.
There's a duality to this region that makes it the perfect place to work, to build your ideas, to live, and to change the world. Nowhere else will you find a place that's ambitious, innovative, and business-minded while at the same time wild, nonconformist, and a bit unconventional. So if you're looking for a common place, this isn't it. But, if you're driven by new ideas like we are, come join us.